Earlier this week there was a debate in Parliament about making Mental Health education compulsory on the school curriculum. The debate was triggered by mental health charity, The Shaw Mind Foundation who collected a 103k signature petition and YOGADOO founder Lucy Aston joined the team from the charity in the debate hall in Westminster to show support for the cause.
The petition, which triggered the debate forms part of the HeaducationUK campaign, which is spearheaded by mental health charity The Shaw Mind Foundation. This is the first time in British history that a mental health charity has reached 100,000 signatures on the Government Petition website.
Last week Lucy Aston met Bath MP, Wera Hobhouse to raise awareness of the debate. As a former teacher, Ms Hobhouse was interested in the work of YOGADOO and agreed on the importance of introducing children to the subject of mental health as part of everyday conversation. She also attended the debate and spoke passionately on the subject.
The issues which rose from the proposal won cross-party support from politicians who sit on the education select committee.
Labour MP for Newcastle North Catherine McKinnell told the meeting: "I would like to see a really bold message coming from the Government in the green paper that this issue has parity of esteem, and that we do not only talk about supporting better mental health within our education system but that the Government will take the steps to ensure that it is a priority and is delivered.
"The earlier that children and young people are educated about these issues, the better. We must properly support them throughout their childhood, help them to develop resilience so they can deal with any issues they face, prepare them for adult life, help them to develop coping mechanisms for the many challenges that life will bring."
MPs heard statistics from HeaducationUK which found 850, 000 UK children aged five to 16 have mental health problems, which equates to around three in every classroom.
Wera Hobhouse, MP for Bath said: "It's encouraging that slowly but surely, stigma is being reduced, and people are starting to open up. It's vital that kids are not brought up with this stigma in schools. But schools need resources to put this into practice."
Ms McKinnell agreed: "Teachers and schools must be adequately resourced and trained for that. "School budget cuts, which are resulting in vital services being axed, must stop, and the Government must seriously look again at those issues that are causing young people's mental health to be so adversely affected."
Father-of-five Adam Shaw, founder of the Shaw Mind Foundation, who has battled extreme obsessive compulsive disorder, said: "Mental health education is still not part of the UK curriculum despite consistently high rates of child and adolescent mental health issues. "By educating young people about mental health in schools, we can increase awareness and hope to encourage open and honest discussion among young people."
He added: "Suicide is the biggest killer of young people under 35, with on average 126 suicides a week. Data also shows that three pupils in every classroom suffer from a diagnosable mental health condition. It is essential that we improve mental health education in schools to reduce the taboo around conditions such as OCD, anxiety, depression, eating disorders and others."
He added: "Teachers and schools deserve the support and investment necessary to tackle mental health properly. This can only be achieved if mental health education is compulsory and the government commits to funding it properly. Responsibility should not lie solely with teachers and schools. They should be supported. So far, mental health education as a small part of personal, social, health and economic education (PSHE) lessons has failed to give adequate weight to the subject, and it is not taught uniformly across the country.
Founder of YOGADOO, Lucy Aston added: "It feels like we are in a period of real change where mental health issues are being talked about more openly, without stigma and with real focus on what we can do to help those who are suffering. YOGADOO works in schools with children aged 4-16 and it is refreshing that schools are looking to yoga and mindfulness to help pupils to learn more about their emotions and increase their own resilience to stresses and worries. It was also great to witness the debate 'in action' and we have to hope that the words which were spoken so passionately are turned into meaningful strategic actions for our young people."
The Government is now preparing a green paper on the issue - a document that will advise on how to turn the plan into a reality - which is due to be published later this year.
Gallery pictures: Bath MP, Were Hobhouse speaks at the debate on Monday, Founder of YOGADOO, Lucy Aston with the Shaw Mind Foundation team in the debate gallery in Parliament and outside Westminster.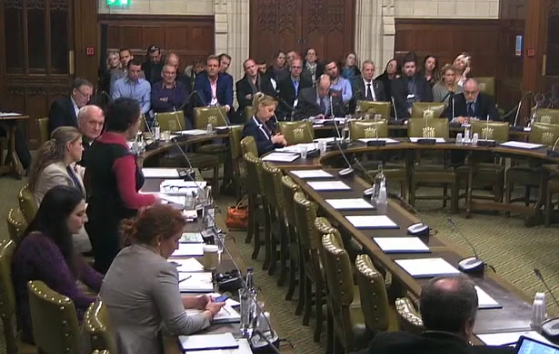 The Shaw Mind Foundation has now commissioned an independent report into the long-term impact that compulsory mental health education will have on the workplace, the NHS, UK economy, family mental health and wellbeing. The report will also make recommendations on how compulsory mental health education can be efficiently and cost effectively implemented into the curriculum.
A YouGov poll commissioned by the campaign found that 80% of British parents believe protecting their children's mental health is a top concern and 79% of British parents believe that children should be taught more about mental health in schools.
A Censuswide poll commissioned by the campaign found that 92% of teenagers aged 14 to 18 think mental health should be discussed in lessons at school, and 65% said they wouldn't be able to identify if they were experiencing mental health problem because they don't know enough about it.